Climbing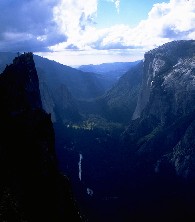 Climbing is a big passion for me, although I really enjoy any activity related to the mountains: Hiking, Backpacking, Skiing, Showshoeing. I enjoy alpine climbing the most, but will go on a rockclimbing or even sportclimbing trip at any opportunity. I have a few trip reports that I hope you will enjoy.
Trip Reports:
The biggest frustration about this kind of activity is the time it takes to really do it, and the difficulty in finding good partners. Since any type of climbing requires good physical conditioning, I try to spend a fair amount of time to stay in shape. There is also the mental conditioning, which is as difficult and timeconsuming (for me, anyway) to train as the physical shape, but since it's a lot harder to train for -- you can really only train it on actual climbing trips -- it's the harder part of the equation. Finding partners can be difficult simply because not that many people do it. In recent years, there has been a surge of people coming into the sport. Many is only in to sportclimbing. Nothing wrong with that, but there is a significant difference between the narrow field of sportclimbing and the broader field of climbing. Even when you find somebody who is, for instance, a rockclimber, there is good potential for incompatibilities, due to the intensity of the sport, at the activity level as well as the social level.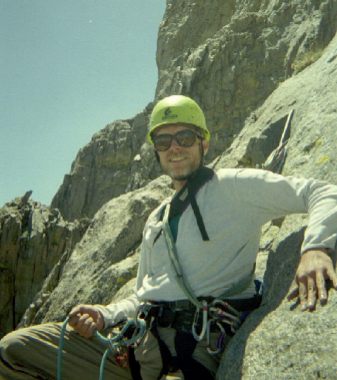 So is it all worth it? I ask myself that question a lot, but the answer is always "definitely". Aside from the immediate satisfaction enjoyed on the walls, and the pride in the accomplishments, there is a strong personal growth that permeates into other areas of life. I find that when you have made decisions that quite possibly had an effect on your chances of survival the next minute or the next hour, it becomes a lot easier to make decisions about whether to get 1% or 2% milk at the grocery store, or whether to fall in love or let go.
This feeling is accentuated by 'close calls'. Every respectable climber has had a few of those. Some climbers will describe a condition, such as a tough climb or an unstable slope, as a close call. By my definition, only events, such as falls or actual avalanches, can be characterized as close calls, although the condition together with the event would constitute a close call (such as an avalanche happening shortly after a party crossed the slope). I have had my share, of which two stand out.
One of those happened very early in my rockclimbing career, and quite possibly had an effect on my climbing ability to this day because it happened as I started out. It was on my first real trip without supervision. We were climbing "Orbit", a 5.8 classic on "Snow Creek Wall" in Eastern Washington. I had had some problems overcoming my fears when I first started leading, but at some point, something 'clicked' and I just started to totally enjoy the thrill and challenges on the sharp end. So as I started up the first pitch on Orbit, things looked easy and I wasn't too concerned that protection looked slim. After 2/3 ropelength and 3 pieces, I got to a really hard spot. At this point I knew we were off route, since it was only supposed to be 4th class, yet I had obviuosly been on 5th class most of the time. My partner kept telling me that it may have been a variation but that it should work, so I kept going. I took a long time trying to make the move, and as I was potzing around, which is never a good idea anyway, I lost my footing and fell about 30 feet down. The fall itself wasn't that bad. I got a severely sprained ankle and lost some skin on my fingers. The piece that caught me was an active cam in an outflaring crack. I was thinking about this piece the whole time I was falling, which seemed like a long time. In my mind, I gave the piece a 50%-50% chance of holding, and I was just waiting for the moment when it would be weighted, so that I would find out. The strange part is that I was not afraid at the time, even though if that cam had come out, I would have looked at a 90' ground fall. Rather, my thoughts were limited to cold analysis of the situation. I must have saved the fear for my later trips, because to this day I have a mental problem with natural protection that is not absolutely bomber.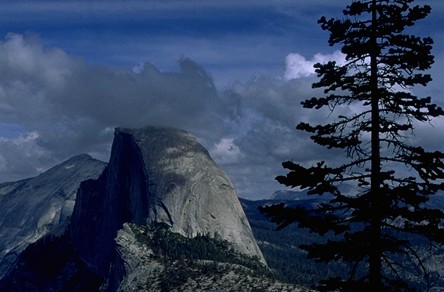 Half Dome from Glacier Point. One of my favorite climbs of all time was "Snake Dike", which goes up the broken slab facing the picture.